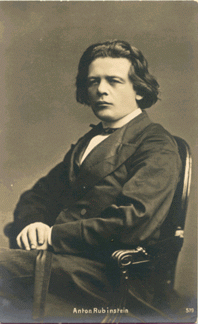 ANTON RUBINSTEIN
Marius van Paassen plays on CD I:
Sonata opus 100, Prelude opus 24 dedicated to Clara Schumann, Variations opus 93 on Yankee Doodle (FIRST RECORDING OF THIS COMPOSITION)
recorded 1987 in the Netherlands
ATTACCA BABEL 8741-4 DDD
Library of congress (USA) number: 90750360
Sponsored by Cristofori in Amsterdam
Gustav Mahler:'He is the thundering, but also very elegant gentleman from Petersburg who will tell you with grandeur and Slavic straight forwardness what's on his mind. He comes straight to the point. A gentleman from Russia with a overwhelming enthusiasm for music. His opera, The Demon, is a great elaborate piece of music that belongs to the everlasting masterpieces of this century.'
An artist who is worshipped by one generation may be forgotten just as easily by the next. The way our cultural heritage is judged changes with each new era. The legendary Anton Rubinstein has been ignored for half a century now (in 1987* see postscriptum 2016). This is all the more fascinating because he played a central part in musical life in the 19th century. His compositions ware performed throughout Europe by people like Franz Liszt, Gustav Mahler, C. Saint Saëns, Hans von Bülow, Johannes Brahms and other renowned musicians. His popularity as a pianist was equalled only by Franz Liszt. For hours the people would queue up for tickets and sometimes the police had to be called to maintain order. Enthusiastic fans even climbed into the chandeliers not to miss anything of his performance. Why has Rubinstein fallen into oblivion in our century?
One of the explanations could be that with the present day style of playing his music could hardly be brought to life. Rubinstein's piano- playing - together with that of Franz Liszt regarded as the most impressive of the 1 9th century - concentrated radically on character and the melody line in music. A risky way of playing. Rubinstein was known for his mistakes, but the public accepted them with love. A second explanation of the fact that Rubinstein's music is hardly performed nowadays might be found in a popular 20th century dogma that only innovating, avant-garde art is worthwhile.
Rubinstein's music is not 'modern' but has close links with classical music traditions. As a pianist and a conductor he also showed interest in history. He stressed the importance of studying the period instruments in order to be able to play the music the way it used to sound. He asked the music-editors to remain more faithful to the original scores of the old masters. He disapproved of the common practice in 19th century to romanticise the old scores by means of all sorts of additions. A third explanation may be found in Rubinstein's internationalism. He regarded music as an international language. He watched the growth of German nationalism with anxiety. In Russia young colleagues objected to his music not being 'Russian'. These composers: Cui, Moessorgsky, Borodin and others had, like Wagner, had much success in our century with their nationalistic aestheticism.
'To the Christians I am a Jew, to the Jews I am a Christian, to the Russians I am a German, to the Germans I am a Russian.' This is how Rubinstein describes his place in the world. His father was Russian, his mother was German. Both were converted to Christianity because of anti-Semitism. He received his education as a pianist in Russia from Villoing with whom he wandered through Europe as a child prodigy. It was in Berlin that he learned to compose.
Rubinstein left en enormous oeuvre. His music is passionate end noble. His favourite tempo indication was moderato. Unjustly one could conclude from this that his music is moderate or without character. On the contrary: his moderato is a moderato in the grand manner. He wrote for almost all combinations: many compositions for piano, symphonies, string quartets, piano trio's, songs, opera's and solo concerts for various instruments. His efforts to introduce a new form of opera, the religious opera, were in vain. He dreamed of staging Bach's passions, and he himself composed biblical opera's that look up to eight hours to perform. His personal zeal and his financial backing were of decisive importance for the start of musical life in Russia.
The hardest thing about the interpretation of Rubinstein's music is the actual understanding of its artistic contents. He gives us hardly any clues in his compositions. This is all the more peculiar as he was always impressing on to his pupils the importance of inspiriting the notes. He compared notes to hieroglyphs that one has to decipher. Not ask yourself: What note is this? With which finger should I play it? But, what does this note mean? What is the nature of this piece? Is it dramatic, lyric, romantic, humorous, heroic, divine, mystical ... ? The performer has to choose for one specific character to be able to animate the notes.
Sonata opus 100
The first movement, a moderato con moto in the grand manner, seems like a plea for reconciliation. One hears in the music a majestic strength, noble in its moderation. But in the second movement the 'reconciler' is infuriated nevertheless. The middle section, which is quiet, shows him small and lonely, after which the same fierce indignation follows, The following andante offers consolation and repose. The last movement follows like an apocalypse: flashes end lightning end bursts of thunder smash. Melodies accuse or ascend to lyric heavens. The sonata ends in a vehement, tragic apotheosis.
In 1872 Rubinstein made a sensational tour of the United Stales. He appeared 215 times before the public in eight months. He took home not only chests of gold end resentment about such 'slavery', but also a melody: Yankee Doodle. It fits in perfectly with his internationalism that he wrote variations on this melody that played an important part in the American War of Independence and the American identity. The variations resemble a depiction of successive stages of the road to Victory, where a certain type of victory is represented by each variation. Sometimes courage is low, or the struggle is tiresome, but the piece ends in an exhilarating climax.
1987
CD II:
Anton Rubinstein: Le Bal opus 14 dedicated to princess Sophie de Nassau, Marius van Paassen piano
First complete recording of this compostion. Rubinsteins pupil Josef Hofmann recorded some of the movements in 1895 on Julius Block cylinders.
MUSIC FOR A DUTCH PRINCESS
ATTACCA BABEL 9268-7 DDD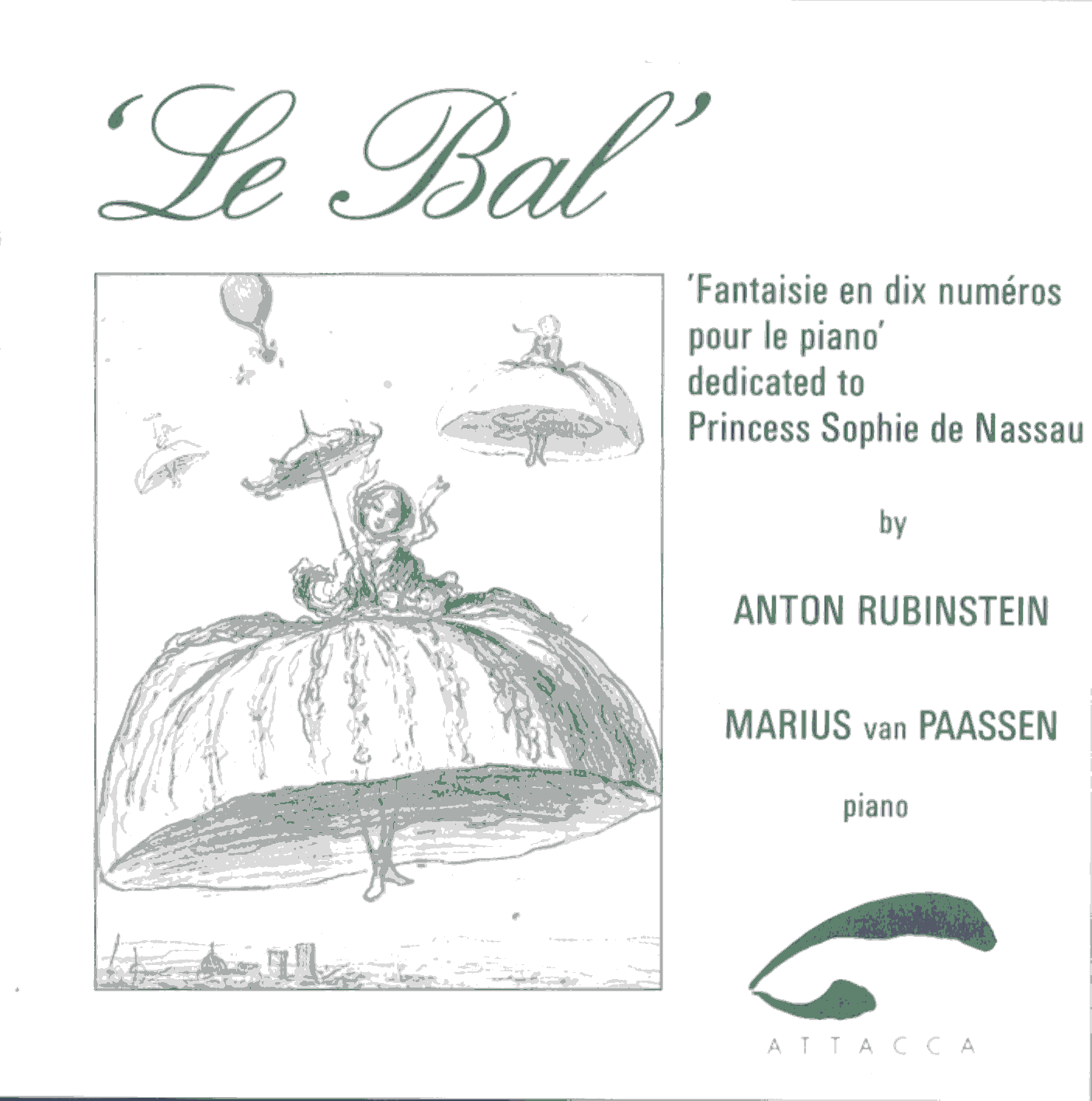 BABEL 9268-7 DDD
LE BAL
The festive dance evening was an important social event in the 19th century. It was an occasion where marriages were arranged or broken, and an informal meeting place for business or political contacts. While in the 18th century only aristocrats and rich merchants could afford the pomp and splendour of an evening with an orchestra, in the 19th century dance parties were for everybody. Vienna led the way. The Waltz, the Galop, the Polka and many other dances advanced throughout the whole of Europe from the Austrian capital, where crowds of people danced all night to the rhythm of this music.In Russia the railways took advantage of this popular entertainment in a remarkable way.The first Russian railway line was constructed between St. Petersburg and Pavlovsk, the site of one of the summer residences of the Czar. Naturally the connection didn't prosper, but this changed when a smart impresario in 1856 had the thought to invite Johann Strauss JR. for a series of concerts in the little country village. Thanks to Strauss immense popularity many people boarded the train in order to attend one of his concerts. The railway company was saved and the waltz took firm root in yet another country.
After appearing in many European capitals as a child prodigy, the Russian pianist and composer Anton Rubinstein (1829-1894) settled in Vienna for a year (1846-1847), where he got acquainted with the city's dance music. At the time he was not yet recognised as one of the greatest pianist of the century, but a little later his contemporaries considered him the equal of Liszt and Johann Strauss and Rubinstein would play each other's works. In 1846 however, Rubinstein lived in poverty. Still, he was composing a lot of music, but upon returning to Russia the custom officers mistook his music-scores for a revolutionary manifest written down in a mysterious code. Rubinstein's compositions ware confiscated and only through the help of influential friends he escaped expulsion to Siberia. The trunk with his works was sadly never recovered.
Between 1848 end 1854 Rubinstein held the position of court pianist in St. Petersburg. Le Bal, his opus 14, dates from this period.
Anton Rubinstein left a large oeuvre consisting of operas, symphonies, piano works, songs end chamber music. His music was performed by famous artists like Liszt, Mahler, Saint-Saëns, Brahms, Von Bülow, Hofmann and the singer Fiodor Chaliapin. During his lifetime Rubinstein was extremely popular both in Europe and in the United States, but after his death he soon sank into oblivion. Three reasons for this can be mentioned.
Firstly Rubinstein was far from being an avant-garde composer, and a conservative style is often less admired by the experts than innovation.
Secondly, already during his lifetime he was rebuked for not composing in true Russian style, while in the second half of the 19th century nationalistic movements in the arts became strong. Rubinstein however, considered music an international language and disputed the nationalistic orientation manifest in the works of many Russian composers, prominent also in the operas of Richard Wagner.
Thirdly his works are difficult to perform. His own style of playing the piano - full of risks, titanic but very melodious - was completely different from what is customary today. Some of the recordings of Horovitz, who stated Rubinstein was his 'pianist grandfather', may give insight in the style of Rubinstein's playing.
Le Bal(1854) contains dance music, but the work is also en expression of the feelings induced by a 19th century dance party. The first piece - Impatience- splendidly portrays the excitement before the start of the party. One already hears fragments of the dances that will be played later. Especially the longing for the Waltz was ingeniously captured by Rubinstein. This most sensuous of all 19th century dances appears after a pompous Polonaise end six Contra dances with their characteristically contrasting dance rhythms. At times a melancholy comment (in minor keys) on the Waltz is sounded which is answered by an exuberant expression of the enjoyment in the rhythm of the three-four time. Of course this Waltz concludes in ecstasy. In the following intermezzo - granting the dancers a rest, but very taxing for the pianist! - one can imagine the excited conversation (agitato) of the guests after the dance. They are left but a small pause, because already the Polka starts, one of the most popular dances of the 19th century. The Galop is the highlight of the evening. Because of the fatiguing character of this dance, it never lasted longer than two minutes: the dancers could simply not 'galop' much longer. For this reason Rubinstein broke his Galop with a slower section in order to give the dancers a chance to recover their breath. In 'Le Réve' (The Dream), the last piece of the cycle, the dancers once again are carried off in a Galop, but then the music ends in sweet slumber.
Le Bal was dedicated to Princess Sophie van Nassau (1824-1897), the daughter of the Dutch King Willem II and his Russian born wife, Queen Anna Pavlovna. Princess Sophie married the archduke of Saxony, Karl Alexander, and lived most of her life in Germany where she showed a great cultural interest.
Anton Rubinstein had appeared for the Dutch royal family at the age of twelve in 1841. In later years he regularly returned to Holland for concerts in various cities.
In 1996 Van Paassen had the honour to inaugurate the old, renovated House of Parliament with this composition by Anton Rubinstein. His performance was attended by Prime minister Wim Kok and many other prominent politicians.
Postscriptum 2016
Rubinsteins music is now available on many recordings. His opera the Demon has been performed during the last decades by many first rate artists in opera houses in Russia and Europe.
HOME: